COMMUNITY FORUM ON HEROIN FORUM 2 PRESENTATION:
HEROIN & SOUTH EUCLID
Robert Erb, Licensed Chemical Dependency Specialist will present the following information. Please feel free to download this presentation and share with others.
Click link below
______________________________________________________________________________________
New Toolkit to Help Ohio Communities Fight Heroin, Prescription Drug Epidemic
Resource encourages local collaboration to help stem the tide of opiate addiction
TOLEDO – Communities across Ohio will get a boost in the fight against heroin and other opiate
addiction with today's release of a "Health Resource Toolkit for Addressing Opioid Abuse." State
policymakers unveiled the new resource during a press conference at the Lucas County Corrections
Center where Toledo-area officials were praised for their efforts to replicate the collaborative
approach that exists in state government to implement effective responses to opioid abuse and
addiction.
"Communities are looking for help; they are looking for answers. The Opiate Toolkit is geared
towards meeting those needs," said Andrea Boxill, deputy director of the Governor's Cabinet Opiate
Action Team (GCOAT), the chief architect behind the toolkit. "This is an inter-system and
community collaboration that provides resources that stretch beyond government entities. The toolkit
is designed to have citizens progressively identify their needs, problem solve to address those needs,
and to maximize existing resources while developing new resources and partnerships."
The toolkit provides guidance on everything from building a local coalition to prevent overdose
deaths and promote responsible prescribing practices to expanding access to Medication-Assisted
Treatment and embracing specialized docket programs to close the revolving door of addiction and
crime. The resource includes technical support contacts at the state level, guidance on accessing
relevant data and trend information as well as a checklist for building an effective local response.
Two community case studies – highlighting innovative strategies and tactics deployed in Lucas and
Summit counties – are also included.
"Whether a community is just becoming aware of the problem, already collaborating to tackle the
issues or evaluating progress made thus far, this toolkit is meant to be a supplement to existing local
efforts," said Tracy Plouck, director of the Ohio Department of Mental Health and Addiction Services
(OhioMHAS). "There is no one-size-fits-all approach to thwarting this epidemic, but this toolkit
provides communities a blueprint from which they can create tailor-made solutions based on
localized needs."
Unintentional drug overdoses caused 2,110 deaths of Ohio residents in 2013. Opiates, which include
heroin and prescription painkillers, were culpable in more than 70 percent of overdose deaths,
according to Ohio Department of Health statistics. Heroin-related deaths rose from 697 in 2012 to
983 in 2013.
The toolkit will be available for download from the GCOAT website at: mha.ohio.gov/GCOAT
Click the link below to access the toolkit.
COMMUNITY FORUM ON HEROIN PART II:
The second part of our four-part series on Heroin and Opiate addiction will take place at the South Euclid Municipal Court on July 22, 2015 at 6:00pm. Please read the following press release for more details.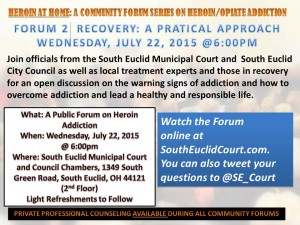 South Euclid officials, police plan forum series to discuss heroin overdose and strategies
Counselors to be available for South Euclid residents and others needing treatment
SOUTH EUCLID, OH – Recent statistics regarding heroin are shocking and South Euclid is not exempt. According to city officials, heroin use and the crimes associated with it would make the life-threatening narcotic the city's number one illegal drug problem if marijuana were to become legal.
Concerned Councilmembers and the Municipal Court are partnering with the city's police, area drug addiction specialists and treatment providers to save lives, fight addiction and curb the growing number of crimes tied to addictive behavior. Area experts and representatives from law enforcement will present a 4-part series each lasting one hour throughout the summer to share information with and gain input from South Euclid residents, merchants and neighbors who want to help, or who know someone fighting addiction.
"We have arranged to provide treatment and recovery specialists available to meet privately in designated areas near the meeting room with people who show up needing help or know of anyone who needs help," Judge Gayle Williams-Byers said.
The hour-long meetings are scheduled as follows:
– June 24, 2015 at 6 p.m. "Heroin. Overview of the epidemic and identification of the problem and is there a problem in South Euclid?" Guest panelists: Executive Director Anita Bradley (Northern Ohio Recovery Agency) and Chief Operating Officer John Scalish of Community Assessment and Treatment Services.
– July 22, 2015 at 6 p.m. "Recovery: A Practical Approach." Guest speakers: Robert Erb, LSW and Valeria Harper of the ADAMHS Board. This session is designed to be interactive and encourages audience participation.
– August 26, 2015 at 6 p.m. "Accountability: South Euclid's Response." Panelists will include representatives from the Office of the Cuyahoga County Prosecutor and South Euclid Police Department. State legislators have been contacted to provide additional information about House Bill 249, the "Good Samaritan Act," which would exempt someone from drug charges if they called to report a friend's drug overdose.
– September 16, 2015 at 6 p.m. "Community Resources." Panelists will include area treatment and recovery agencies who will share insights about the available treatment options in addition to the Suburban Drug Court Program where South Euclid Municipal Court participates. A sampling of invited agencies includes The Alcohol, Drug Addition & Mental Health Services Board of Cuyahoga County, Northern Ohio Recovery Agency, Community Assessment & Treatment Services, Salvation Army, Murtis Taylor and Connections.
Councilman Ed Icove said the series was scheduled in response to concerns from South Euclid police that more could be done to deal with the narcotic drug's impact on the city. Council was notified that only a marginal number of opiate related cases had been referred to the Municipal court which raised the need for this serious conversation.
In addition to this series, Councilman Marty Gelfand has decided to use the safety committee to investigate the concerns raised. Judge Williams-Byers hopes that ultimately a local legislative solution – perhaps similar to the pending "Good Samaritan Act" currently being discussed in Columbus by the State Legislators can be considered locally. There is nothing preventing council from passing its own version of the legislation as a guide to South Euclid police, the prosecutor, and court.
"Ohioans struggling with addiction shouldn't die because they're with someone afraid to call EMS or police who's concerned that they'll be arrested," Councilman Icove said. "Saving lives has to be more important than arrest statistics."
Judge Williams-Byers is prepared to work with other city officials to ensure that the very real concerns related to heroin are addressed and that the city of South Euclid is acting proactively not reactively.
"We're here for justice," Williams-Byers said. "But we're also here to help."
Heroin at Home: The Community Forum Series on Heroin/Opiate Addiction begins tonight (6-24-15) at the South Euclid Municipal Court/City Council Chambers at 6:00pm. We are looking forward to your participation in this informative event. Our community partners have prepared several fact-sheets and articles of information to be used during tonight's event. Feel free to download these items for free and pass it on to others.
---
Survey: If you attended or watch this Community Forum, please complete this brief survey. We want to make sure our series is informative and valuable. Your answers will help us improve our presentations in the future.
Click the link below to complete the survey online.
https://www.surveymonkey.com/r/C9JP88X
---
Frequently Asked Questions about Heroin/Opiates
State of Ohio Heroin Overdose Report 2014
Cuyahoga County Office of Medical Examiner Heroin Related Death in Cuyahoga County
http://medicalexaminer.cuyahogacounty.us/en-US/CC-HeroinInitiative.aspx
Ohio Substance Abuse Monitoring Unintentional Drug Overdose Report
OSAM unintentional overdose report June 2014
Project Dawn